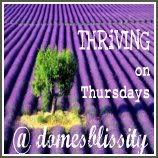 What a wonderful start to my Thriving on Thursdays linky party last week with an amazing 81 contributions! Thank you so much to everyone who submitted. I was absolutely thrilled that so many of you would partake. There were so many lovely entries but these are a couple of my favourites, for the frugality and fun of it.
How about this gorgeous kitchen dresser makeover by Meg and Mum's. Check out the before and after photos
here
. Thanks Meg for submitting. I love it. If you find another, could you make it over for me? Thanks!
Look at these pretty
Pink Lady Slipper sodas
with their own pretty tutus, perfect for any little girl's birthday party by Nann at Nann's Table. It was so hard to choose just one of Nann's submissions this week as they were all gorgeous. She so cleverly came up with a delicious idea from the words of the "12 Days of Christmas". Check out all the lovely ideas at
Nann's Table
. Thanks Nann for your contribution. Can't wait to see what you've got for us all this week.
Marissa from Rae Gun's Ramblings shared her recipe for
Light Wholegrain Pasta
. It's economical and tastes oh so good. You don't need a pasta maker to make fresh pasta. Just roll out really thin with a rolling pin and roll into a log or layers and cut into the desired width. Thanks Marissa for a lovely wholesome recipe.
Katie, The Imperfect Housewife (or so she thinks) showed us the
perfect
way to
repurpose last year's calendar
with fantastic, fun activities for the kids. Thanks Katie for taking part.
Marilyn from 4 You With Love gave us a recipe for
DIY Washing Powder
. There are a lot of recipes doing the rounds and I found this one to be easy and with all of the ingredients easily accessible to most people. Thanks Marilyn. Love your ideas!
And last but not least, I couldn't go past sharing the lovely Lee's
Gluten Free Banana Bread
recipe. Bananas are like 'manna from heaven' here in Australia lately. After losing basically the entire country's banana crops in the January 2011 Yasi cyclone, we've all been craving bananas. The supermarkets were charging nearly $15 per kilo for bananas for nearly 12 months and now they've come down to a respectable price, we have banana cake again. This one looks so good and it's gluten free. Thanks Lee for joining in.
I've got to stop there. There are so many more entries I would've loved to have featured. They were all fantastic ideas. You never know. I'd like to feature some of them in separate posts in the near future. Please grab the "I've been featured" button from my sidebar if you were featured this week.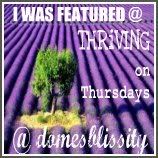 Now to this week's party. Remember, the posts can be about anything. Can't wait to see what everyone's been working on this week.
Yum