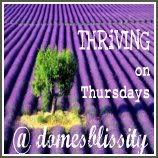 Party time, excellent! I'm looking so forward to this week's party. I'm wondering if it can get any better than last week. What an amazing array of posts by so many talented people. I think I've got about 82 different recipes, crafts and projects to try. These were some of my favourites.
This old fashioned
Oatmeal Cake
by Cooking with K had me drooling. I love nothing better than an old fashioned recipe and this one by K's granny will become one of my favourites I think. Thanks K!
This vintage
'Hospitality Snack Set'
just happened to be picked up by Erica at The Polka Dot Umbrella. I'm always on the look out for lovely tea sets and depression glass pieces. When I do find something I really like, it's usually over my budget so I leave it but how could you go past this set for $3! I'm so envious Erica. A great find. Thanks so much for sharing.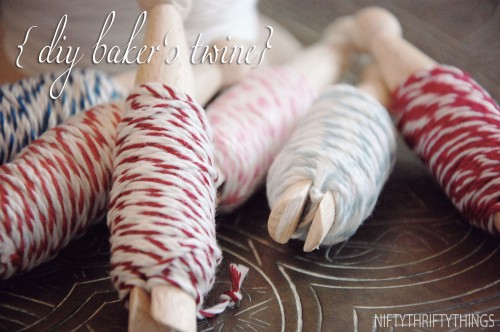 I've been seeing a lot of beautiful crafts and gift wrapping ideas using
coloured twine
since Christmas time and earlier. Vanessa from Nifty Thrifty Things has done it again with another 'nifty thrifty' idea and is sharing with us how to make it yourself with regular twine and embroidery thread. How about twine in whatever colour you want? Yes please!
You think you've seen it all and along comes someone with such creativity. I just love this
Family Tree Word Art tutorial
by Gardeners to Bergers. What a fabulous gift to give your grandparents on a significant anniversary. And the cost? A bit of time, a piece of paper and some printer ink. Priceless! Thanks Becca!
And in an age where we all too quickly throw away ripped or torn clothes or linen, Donna from Mom's Frugal gives as a run down on the lost art of
patching
. Donna has 6 children so I'm sure there'd be lots of hand me downs and what a better way to save your money than to repair and reuse. We all wore hand-me-downs when we were kids growing up. I think it looks kind of cute on worn knees of jeans and elbows of woollen jumpers. Thanks Donna for joining in.
Feel free to grab a 'featured' button from my menu above. I can't wait to read about what you've been up to this week. From what I've been seeing come through on my subscribed blog feed, I think we're all in for a treat. Thanks everyone for joining in.
PS For anyone new to linking up, here's a few pointers.
URL: The direct link to your blog post (not the home page).
Name: The name of the post, not the blog, eg Gooey Chocolate Brownies etc.
Email: Your email address. (I don't use this for anything but letting you know of the next party or commenting on your ideas.)
Yum