Things break. Things deteriorate. Even when I was a child back in the 70's, when the television stopped working, you called the repair man to the house and he fixed it (for a reasonable price, mind you). Now, when the television stops working, you throw it away and get a new one. It's just mind boggling how we've become a throw away society.
I try to buy second hand whenever I can. If the egg flip snaps, I head to my local thrift store to replace it. If my son needs football shoes, I head to the thrift store. (Which, by the way, I picked up for $4 the other day.) Some of the dollar stores (and even KMart in Australia) have excellent priced goods for these sorts of things but the biggest problem I have, is I tend to walk out with a lot more than I really
need
. I don't think I'm alone there. I do like collecting things like depression glass and vintage linen so the thrift stores can be a bit of a temptation to me as well but I try to show restraint, don't go over budget and only get what I need.
Big ticket items such as televisions, refrigerators and furniture can often be picked up for free on Freecycle. I picked up 3 seater and 2 seater lounges for free on Freecycle. It's like brand new. I also picked up a second hand
second
fridge for nothing from Freecycle. You really can get by on second hand, most of the time. I don't go second hand on everything, for example underwear, but in order to live within my means and enjoy most things most of the time, this is how I manage it.
ebay, Gumtree, Facebook and Craigslist are also wonderful options for searching for secondhand items as are yard sales and the classified ads in the newspaper. When the children were small, I got nearly all of their clothes as either hand-me-downs or from second hand sources. As they've got older (now 7 and 5) clothes aren't holding up to the rough and tumble so I look at end of season sales, in the next size up.
Think about buying second hand next time. You never know what treasures you might find and they'll probably last a lot longer than what the things that are made nowadays do.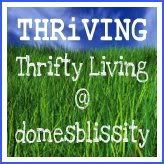 This post is part of domesblissity's THRiVING - Thrifty Living feature.
Yum