Well, it'll be officially over after today. Summer that is and what a mixed up, topsy turvy time we've had. Long gone are the long summer days I grew up with. In the last couple of years, our country has seen the worst flooding ever in parts, bad cyclones, heatwaves, bush fires, inland tsunamis, just to name a few. Our weather here in Brisbane was unbearably hot some days and quite mild and comfortable on others. Not like how it was when I was growing up. It was hot from late September until early May with especially bad humidity from December through until February.
It made it a little hard to plan too much with the kids but other than the vacation to Noosa just before Christmas we played it by ear and went out when the sun was out. It was better this way with my kids as they enjoyed playing with each other (finally).
Waiting for the train
There was the train ride into Brisbane CBD to catch
Santa
in Santaland.
It was a
warm day
and thirsty work.
There was our few days
away at Noosaville
on the Sunshine Coast. Even with intermittent rain, we managed two swims a day. I'm sure the kids grew gills and webbed feet in those few days.
Sibling love at Kindy graduation
There was the end of an era with my son finishing Kindergarten at one of the most wonderful Kindergartens in our area. Both children went there and I'm sorry we haven't got any more children to go through. All of the teachers were fantastic and gave our children a great head start for their education.
Doing the present 'happy dance'
There was
Christmas morning
full of nice surprises and making wonderful memories, even for the dogs.
I've now got
both children at school
and we started at a new school this year. We're so happy we made the change. They've both settled in so well.

We spent plenty of time at our local parks and some not so local.
Kalinga Park
is close to my Mum and we had a lovely time there. It'll be a sad day when the kids will have grown too old for a park.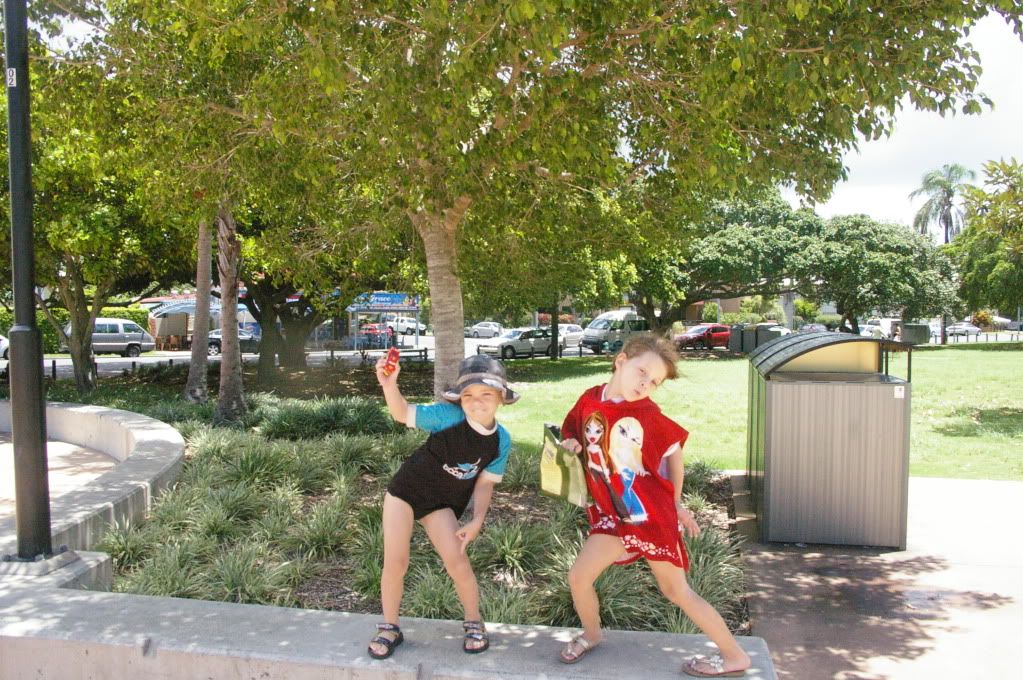 There were quite a few days at our local beach and a few at the
Wynnum Wading Pool and Waterpark
. Hopefully we'll have a few more weeks there before it gets too cold.
Another lovely summer full of memories for us and the kids. I wonder what the Bureau of Meteorology will predict for next summer? More floods, more cyclones or dry and hot? We'll see.
Yum