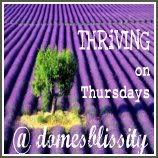 That time of the week my friends where I get to showcase all your beautiful creations from the week. Valentine's Day is over and you couldn't get through my front door for all the flowers that the florist had delivered. I wish! So what's next? St Patrick's Day? Easter? Are you preparing for Mother's Day? Would love to see what you've been up to this week. The most 'hit' link ups from last week are:
The lovely Bonnie from Revolutionaries made this ultra simple
Valentine's bon bon
from a toilet roll. How simple but effective. Those toilet rolls certainly do come in handy for a lot of things.
My good mate from Ohio, Marilyn showed us how to create this wonderful
floor finish from brown paper bags
. This is yet another addition to her 'woman cave' which is coming along nicely. Can't wait for the big reveal Marilyn.
Anita from Aunt Nubby's Kitchen has done it again with another delight from her kitchen in the form of
Apple Chips
. These look so good Anita. Thanks for linking up.
What about this great idea from Heidi over at All That Brings Joy and
a novel way to cover holey jeans
. Wonder how I'd go making that into an Aussie flag? Thanks Heidi. Your sewing machine would get a good workout if you turned that into a Star Spangled Banner!
I've seen these
sisal rope placemats
at speciality kitchen stores for a princely sum but Donna from Loopy Loop Creations shows us how easy it is to recreate them at home. I love them Donna and am going to get busy making some of these. Thanks for linking up.
Thank you so much for everyone linking up this week. Your posts were all worthy of a mention and all received quite a few hits. If you haven't already grabbed a 'featured' button, please feel free to do so.