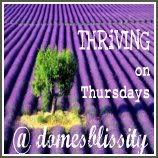 Welcome to another Thriving on Thursdays @ domesblissity. It's so nice of you to join me. If you've been a regular, welcome back. I really enjoy seeing what you've been up to each week. If you're new here, thanks so much for joining in. I really do hope you become a regular. I'm loving seeing what each and every one of you get up to and I'm always impressed by your originality and creativity. Here's the most viewed links from last week's party.
The Real Food Forager posted an interesting article on
drinking Diet Coke and associated risks of stroke
. She always has interesting articles and I'm so glad all of you found this one of interest. I must admit I drink a bit of Diet Coke but I'll be thinking twice from now on. Thanks Jill for your interesting and valuable advice each week.

Sarah from Adventures of Our Fami-ly delighted us with her
Bacon, Egg & Cheese Breakfast Cups
. How good do they look? Besides being a great crafter, she's tempting us with these beautiful breakfast treats. Thanks Sarah for linking up each week.

Pam from Threading Your Way showed us how to
align buttons
. I've been wanting to do this for a while but just not clever enough to work it out. Thanks so much Pam. Obviously a few other people needed to know this as well.
Thanks again everyone for coming back each week. It's a real pleasure to have you. Now to this week.
Yum