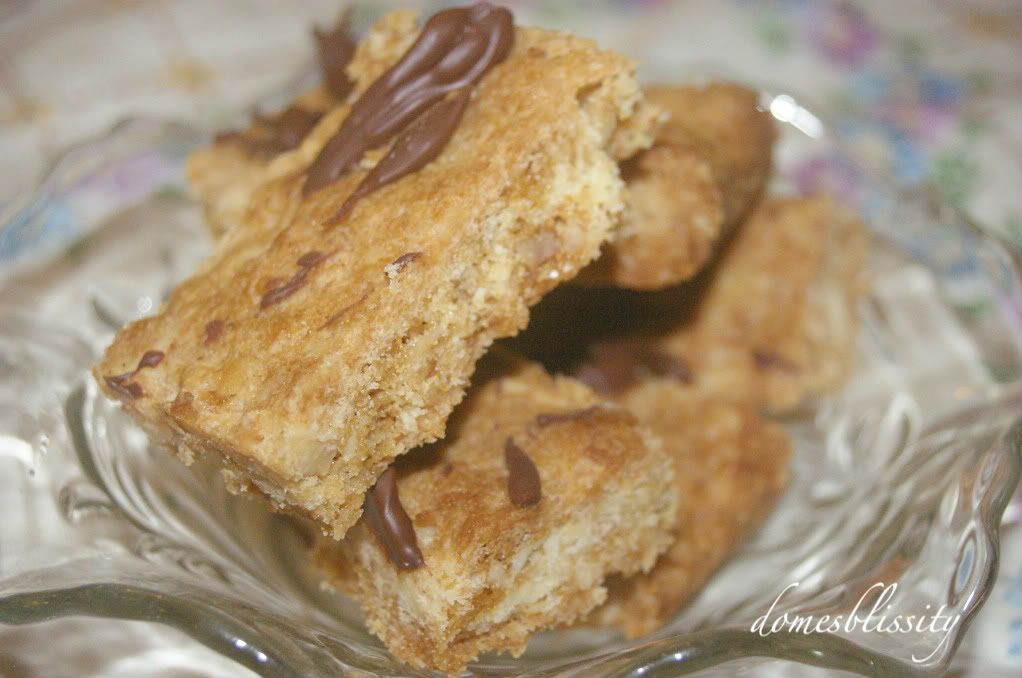 You know when you get in that mood to bake and you can't decide what you want to bake? Well, it's been missing for a while because of the heat but I always look to my pantry for inspiration (or the bottom of the crisper dish for fruit that's on it's way out). I'll always find nuts or coconut or dried fruit of some description in the pantry. I might even be lucky to find a couple rows of chocolate. (Might, I said.) I thought I had pecans and googled this recipe for an
Easy 5 Minute Pecan Slice
and easy (and 5 minutes) it was. Trouble was it was walnuts I had, not pecans. No problem.
Walnut Shortbread Fingers
125gm butter, melted
1/2 cup brown sugar
1 cup self raising flour
1/2 cup coconut
1/2 cup finely chopped walnuts (or pecans or any other nuts you have)
vanilla
small amount of chocolate (for drizzle)
Mix dry ingredients together.
Add melted butter and mix well.
Press into a 30x25cm slice pan and bake at 180 deg C for approx 20 mins or until golden brown.
Allow to cool.
Drizzle with the smallest amount of chocolate, if desired.
Slice into smaller 'finger' slices.
Slightly chewy on the inside, crunchy on the outside and very buttery. Just like shortbread I reckon.
Yum