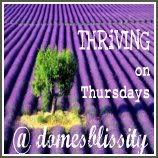 That time of the week again where I get to feature the most hit links from last week's Thriving on Thursdays linky party and where I get to see what everyone's been up to. I think I follow most of my regular contributors and keep on track with your daily posts but sometimes something comes up and I don't get to it. This way I get to see what everyone's been up to in the one spot. I might even get the start time correct this week. Instead of 12:05
am
, I typed
PM
! Oh well, another Mummy moment!

Everyone must've been craving chicken recipes this week as this
Clubhouse Chicken
from Mary at Go Ahead...Take a Bite was also one of our most popular links. I think I'm going to be eating a fair bit of chicken over the next couple of weeks but what a way to go! Thanks Mary.
And you guessed it, another chicken recipe. This time Allison from Feeding My Temple shows us how to
'roast' a whole chicken in the slow cooker
. What a great idea. I can't wait to try this one. You know how I love to use my slow cooker. Thanks so much Allison for linking up.
So many great link ups and ideas. Feel free to grab a featured button. I'm truly grateful for your presence every week. Now let's see what you've got.
Yum