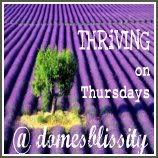 Well, I'm back, just. At times I just don't feel like I've got the motivation to even prepare a meal for myself let alone blog about it but in a way, my Mum taught me everything I know and she was proud of my blog (she'd just agree with me when I spoke about it so I guess that counts - she was from a pre-internet generation). I was so impressed with the last linky party that it was too good not to share who had the most links. There sure was some good ones. I'm sorry that I haven't been reading all of your blogs this last week but I hope to catch up with my favourites over the next few days. Anyway, here's the most hit links from the last party.
You will not believe your eyes when you read this post from Little Ladybird. Tash and her Mum refashioned Tash's
wedding dress into a new outfit
and
matching bag. Unbelievable! Just so wonderful Tash. It really is beautiful (and how game are you for making that first cut?)
Katie from The Imperfect Housewife was very naughty but oh so clever sharing her recipe for
Toblerone Mousse
. There goes the diet Katie, thanks very much. How yummy and so easy!
My dear Brisbane blogging buddy Jos from Sew, Cook, Laugh & Live is such a clever little thing. What a whizz with the sewing machine she is with this
no pattern required lace top
. Don't ask me how she does it. Thanks Jos for sharing this with us.
Thank you so much everyone for sharing your wonderful ideas. If you haven't already done so, feel free to grab a 'featured' button from my "Buttons" tab above. I can't wait to see what you've all been up to while I've been away. Starting after this week's party, I will hope to feature the recipes each week to help my readers with menu planning. Stay tuned!
Yum