To menu plan or not to menu plan? That is the question! Yes, I have done it over the years and no, I don't do it nowadays. I'm not sure what happened. I follow so many bloggers who menu plan and I'm in awe. I put my reason for not menu planning down to experience or just having one less thing to do but I found it quite time consuming to menu plan. I'd allocate an hour or so on a Saturday afternoon, for example, one weekend and the next weekend would come and go before I got the chance again. Things always pop up when you have young children. There are, of course, many ways to reduce the time spent taken to menu plan. I'd say these 'seasoned' menu planners have got it down to a fine art.
The times I have menu planned, I've loved. Menu planning is great for using up what you already have in the fridge and pantry. Knowing in advance (yourself and the family) what's for dinner makes things so much more organised.
My biggest problem is my 'fussy one' and it's just about the biggest waste of time for me to set out a week's menu when there's just no way she'll eat any of it. I've had probably near on 40 years experience of cooking and maybe 20 or more years of preparing a regular evening meal so I guess I can look at what's in my fridge and throw something together. With the invention of the internet, my job is so much easier. I can easily search for a recipe based on the ingredients I have on hand or use one of my many cookbooks for inspiration.
Sometimes the ingredients 'speak' to me. For example, whenever I have lamb, I automatically think of Greek food. Vegetables that cook quickly when sliced thinly always say 'stir fry me'. Your root vegetables like potatoes, sweet potatoes and carrots say 'stew me or soup me up'. (No wonder I hear voices all the time with all of this food speaking to me!)
The weather will also depict what's served for the evening meal. For example, on a hot night it's salad or a barbecue or I will use an appliance that doesn't generate much heat. If I've got chicken, I'll make skewers. If it's a cool day, I'll get the slow cooker on for a hearty meal of comfort food.
Buying your vegetables in season also helps me decide what will be on our plates each meal. Don't worry. The 'fussy one' gets a little bit on her plate to try, with much hostility, but we don't push the issue.
There are so many
great menu planners
out there in the blogiverse that freely offer their templates and printables to help you menu plan. Whichever way you do it, menu planning or not, always use what you have, substitute, substitute, substitute and don't run out to pick up that one ingredient you need to make a recipe. That's when you'll often spend more than you have to.
Write it on a
piece of paper
,
a blackboard
,
a photo frame
,
online
, in your diary. Do it weekly, monthly or 3 monthly. Develop
a card system
where you write down your family favourites or the recipe's page number from a recipe book. Get the family involved and let them choose. Designate one night a week as 'take out' night but make it at home. No matter if it's written down or done on a whim like I do, this will help you save money along the way and help you THRiVE.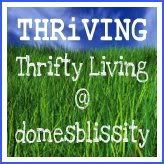 This post is part of domesblissity's THRiVING - Thrifty Living feature.
Yum