My Saturday night homemade pizza of pepperoni, olives, mushrooms and fresh tomato with mozarella
April has got away from me and I'm missing a few 'Baking' posts I would've liked to have posted for my "THRiVING" feature. I feel a sense of satisfaction as soon as I turn that oven on to bake something. One such thing I get a lot of enjoyment from, that is in the baking and the eating, is PIZZA. As a lover of Italian food, pizza is just one of those things that can be made with anything at any time of the day or night and costs next to nothing to make. Even if you don't have pizza dough or pizza bases, you can make a pizza out of just about anything.
Sure, the pizza takeaway chains have some pretty good deals but what about the taste? I really struggled to find a photo of what they really look like when you open the box. They never look like they do in the pictures at the store and half the time you don't know if you're eating the pizza or the cardboard box it came in. Nothing can taste as good as one you've made yourself and it'll save you so much money.
This is the recipe for pizza dough that I like to use. To save on kneading time, I make it in the breadmaker, roll out and then freeze in individual portion sizes.
Breadmaker Pizza Dough
1.1/4 cups water
2 tbs extra virgin olive oil
4 cups flour
1.1/2 tsp salt
1/2 tsp sugar
1 tsp yeast
Add all ingredients, in order listed above, into breadmaker pan.
Make in breadmaker up until cooking stage.
Can be frozen into small balls and use as required.
When ready to make pizza, roll into desired shape, top with favourite toppings and bake in a hot, 220 deg C oven until cheese has melted.
If making pizza bases isn't your thing, something as simple as making pizzas using bread is an easy option. I've done this many times. Here are some more varieties on how to make pizza. Just think of anything suitable enough to hold the toppings like Lebanese bread,
low carb cauliflower crust
, bread rolls, flat bread, Turkish bread. The choices are endless.
Puff Pastry Pizza
Calzone
[photo source]



Pizza Scrolls (use pizza dough or puff pastry)






[photo source]
As far as pizza toppings go, I like to keep them simple and use whatever I have on hand. I nearly always have mozarella cheese in the freezer and if I don't, I use plain cheddar cheese. I always have pepperoni, ham or bacon in the freezer. Any meat works well. Use whatever vegetables you have in the crisper like capsicum (bell peppers), onion, mushrooms, asparagus, broccoli, fresh tomatoes, olives. If you don't have pizza sauce or passata to top your pizza bases, use plain old tomato sauce (ketchup) or spruce it up with herbs or spices and/or chilli.
[photo source]



Whichever way you go, gluten free, vegan, vegetarian, wholegrain, all meat, no meat, using a substitute for the pizza base, using ricotta cheese on top, pizza is a quick, cheap, tasty snack or meal that is easy to put together and easy to have on hand in the freezer, either partly made or made up ready to pop in the oven.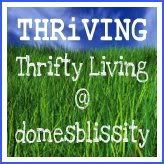 This post is part of domesblissity's THRiVING - Thrifty Living feature.
Yum