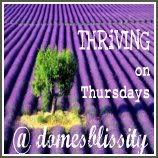 Did I blink and miss the last 7 days? Where did they go? It seems like I just get finished typing up the Thriving on Thursdays post and the next minute, I'm typing up the next one. The weeks in 2012 are just flying by. I don't really mind though because it means I get to see a whole lot of new recipes, craft ideas and wonderful tips from all of you. Now, let's see the most 'hit' ideas, not food related from last week's linky party.

This
Backyard BBQ
idea from Sheryl from the Lady Behind The Curtain is just so cool. Looks like a real 'kick up ya heels' kinda party to me. I reckon this would be so great to have something similar but with an Aussie flair for Australia Day or an ANZAC Day party here in Australia. This post has printables
and
recipes to make your party a success. Thanks Sheryl!
These
Wildflower Seed Bombs
are such a fantastic idea from Cookin' Up Good Times. (I secretly thought they were delicious chocolate truffles, they look so good.) What a wonderful idea and great for a gift too. Thanks so much for submitting all your beautiful recipes last week too. Just gorgeous!
My fellow Queensland blogging buddy, Jos from Sew, Cook, Laugh & Live has come up with these
Faux Vintage Lolly Jars
. They're so cute Jos but I'm not sure its a good idea I have lollies on display like that. I have to hide them from myself. Be a great idea for an old fashioned lolly shop party. Thanks Jos for joining in and your wonderful ideas!

Cherise from Sewingly Along is in the process of creating a
Favourite Things Quilt
and has shared her progress with us. These blocks are so beautiful Cherise. I can't wait to see the finished project. You've given me a lot of inspiration for a favourite things quilt I'd like to make for my children. Thanks so much for linking up. It was a pleasure to have you.

Barb from Turtles and Tails shared this easy tutorial on how to make these really cute
bulletin boards
. This is just the thing I'm wanting to make to sit above my desk. I'm very much a visual person and if something's not jumping off the wall, in my face, I don't or won't remember it. Thanks Barb for linking up. Great idea and tutorial!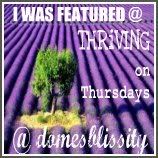 Feel free to grab my 'featured' button if you haven't already done so. Now, onto this week.
Yum