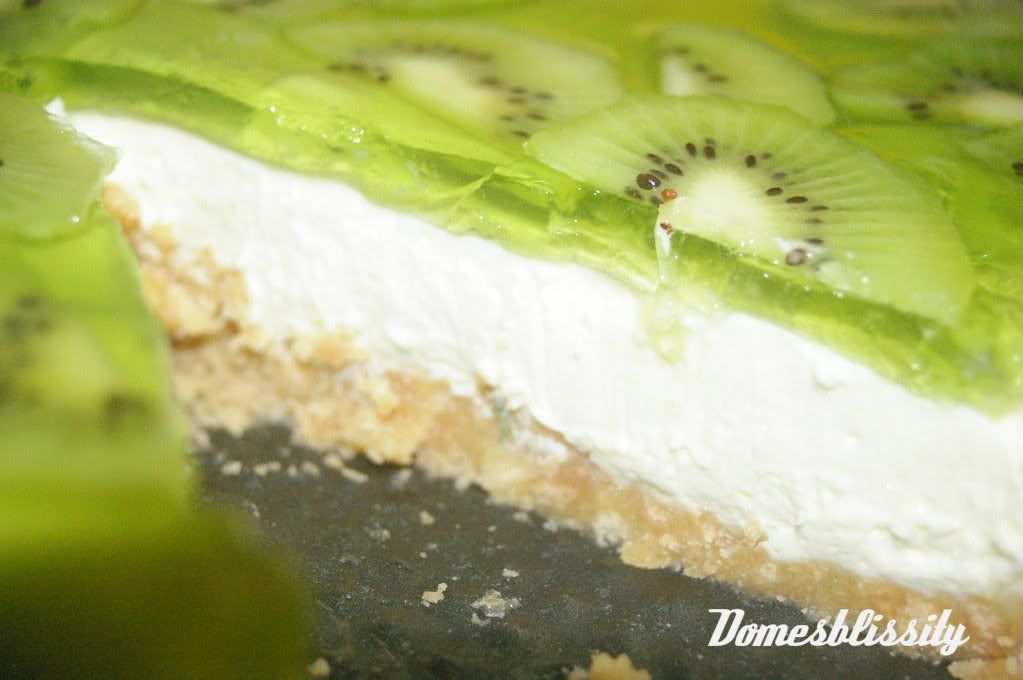 One thing I don't make a lot of is cheesecake. One, for the calorie content and two, well, I don't really know. It's not like cream cheese is regularly in my shopping trolley and I have been known to make a cheesecake from leftover ricotta, Greek yoghurt and whatever else has been left in the fridge. I find it a bit rich (which is rich coming from me because I love rich food).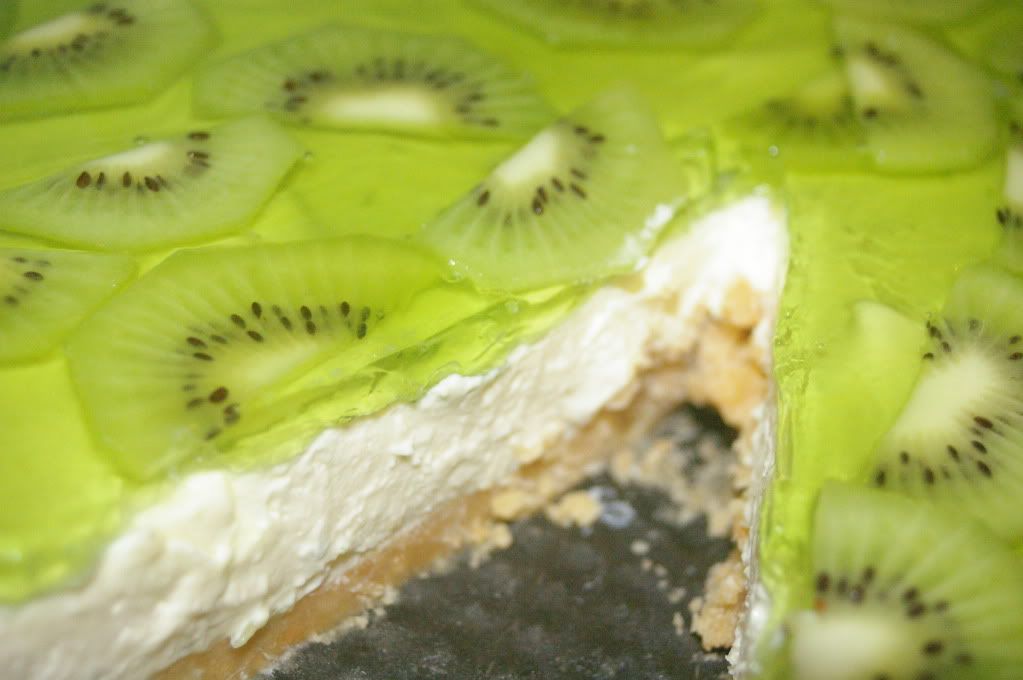 My son inherited his love for cheesecake from his father and my daughter is becoming more game and will happily devour a piece of plain homebrand frozen cheesecake from the supermarket. This was the extent of the cheesecake eating in this house. A $2.99 homebrand frozen cheesecake from the supermarket.
When you start looking at cheesecake recipes, you could just go wild. Some are so rich with chocolate and/or fruit syrups, tangy and fruity using all sorts of tropical fruit, as I've done in this case. Topping the cheesecake with jelly adds another flavour and sets the fruit nicely. I placed the kiwifruit on oh so carefully on the cheesecake and when I slowly poured the jelly on, off they went. Floating all over the cheesecake.
This photo looks a little abstract that's just the way the kiwifruit settled
Kiwi & Lime Jelly Cheesecake
(based on the original no bake Philadelphia Cheesecake recipe)
Base:
1 packet shortbread finger biscuits
125gm butter, melted
Filling:
500gm cream cheese, softened
grated rind of 1 lime
juice of 1 lime
1/2 cup sugar
3 tsp of gelatine, dissolved in 1/4 cup of hot water
1 cup thickened cream, whipped to stiff peaks
Topping:
1 packet lime jelly crystals
3-4 kiwifruit, peeled and thinly sliced
Thoroughly grease a springform pan and set aside. (Alternatively, any pie dish can be used or for individual cheesecakes use cupcake papers in a cupcake or muffin pan.)
Place biscuits in a plastic bag and hit with a rolling pin until crumbs form. (Alternatively, crush the biscuits in a food processor).
Mix biscuit crumbs with melted butter into a springform tin and place in fridge until later.
Beat cream cheese, juice and rind of lime and sugar until smooth.
Gently beat in cooled gelatine mixture and thickened cream.
Place on top of biscuit base and return to the fridge to set.
Make up jelly as per packet instructions.
Place cut kiwifruit slices on top of cheesecake and slowly pour cooled jelly over the top of the cheesecake and return to fridge to set.
I found this a little rich and tangy with the lime zest and juice added. You could add a little more sugar or serve with extra cream. Not sure if I'm a big fan of cheesecake or not. Nice for a change I guess. I guess I also decided on this flavour combination because of what I had available. The only thing I had to buy was cream cheese and cream.
And a reminder - we call Jell-o "jelly" here in Australia. What the US calls jelly, we call jam. We all know what we mean, don't we?
Yum