When I get a craving for something, I just about do anything to get that dish made and eaten. When I felt like Butter Chicken the other night, I remembered a recipe I'd seen years ago that was easy but it used tomato paste, which I didn't have. I know how to substitute most things but just didn't feel adding something like tomato sauce in place of paste would've done the butter chicken any justice.
Instead, I just had a look at what I had in the fridge and pantry. Time was running out. I didn't want to grind spices or run to a late night store for tomato paste and whipped this quick and easy version up based on the Easy Butter Chicken recipe I had from years ago. It may not be authentic and it may not be exactly the same as the recipe I had but it hit the spot.
Quick & Easy Butter Chicken
1 tbs butter
1 tbs oil
1 onion, finely diced
3 cloves garlic, crushed (or 3 tsp of crushed garlic)
1/2 tsp each of ground ginger, cinnamon, salt, turmeric
1/2 tsp curry powder
chilli powder to taste
1 chicken breast, chopped
4-6 Roma egg tomatoes, chopped
1/2 cup cream
1/2 cup Greek yoghurt
handful of baby spinach leaves
Melt butter and saute onion and garlic for 2 mins.
Add spices and stir until aromatic.
Add chicken and saute for about 5 mins.
Add chopped tomatoes, cream and yoghurt and simmer gently for 15 mins or until tomatoes have broken down.
Remove from heat and throw in washed baby spinach leaves. They will wilt from heat of dish.
Serve with steamed rice.
Suitable to freeze.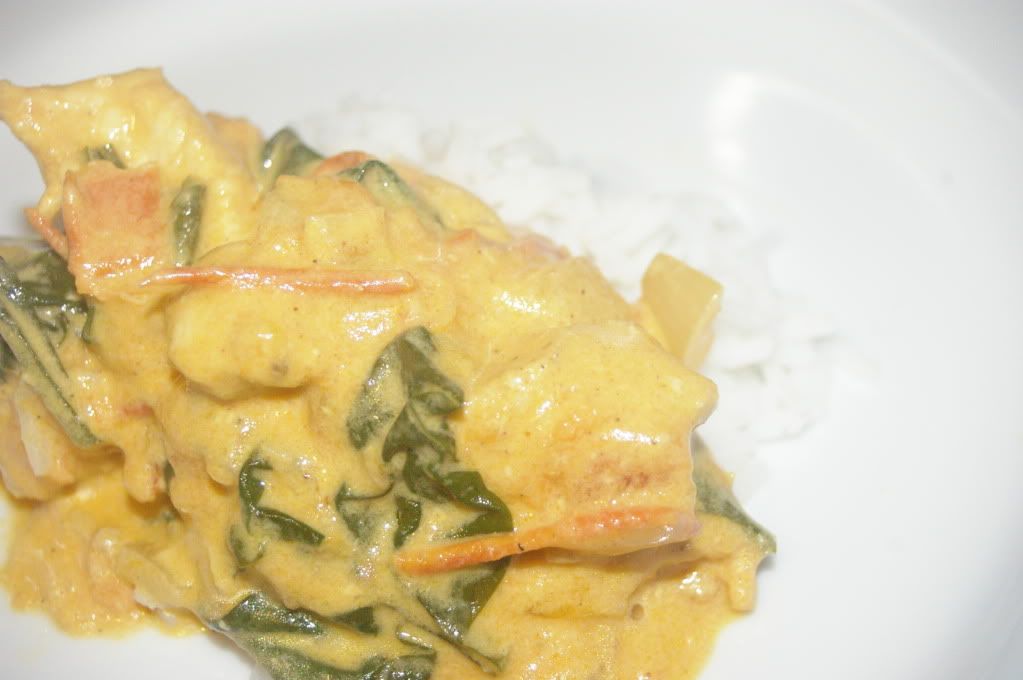 Yum