And get your kids to do the housework. Yeah right! (Although I have introduced more daily and weekly chores to my kid's chores list). I'm going to tell you how I clean house. Even though it may not be spotlessly clean or tidy, 100% of the time. I've learnt over the last 6 months that this is what works for me and our house.
Prior to me stopping work and having children, I ran my housework schedule like clockwork. I would even purposely take rostered days off every four months to wash all my curtains and clean windows before putting them back up, along with having the carpets regularly cleaned etc. Now, I'm lucky to have the floor swept once a week.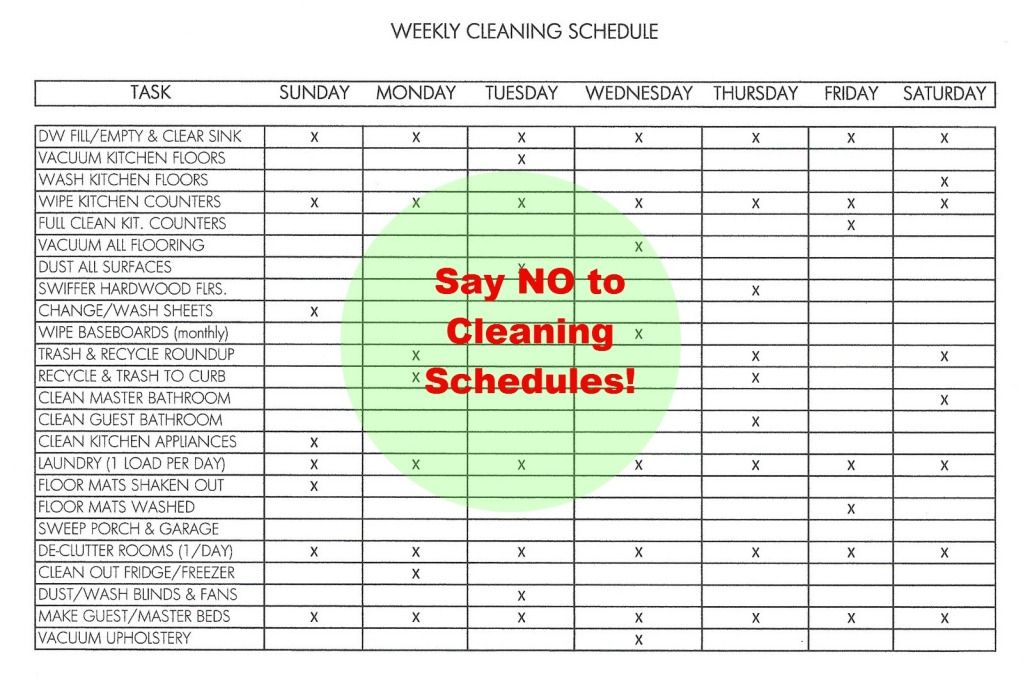 The way I've learnt to manage is by saying 'no' to cleaning schedules. I tried this last year. I thought, because my children were a bit older and my son was at Kindergarten three days a week, I could slot my housework cleaning day into Monday. All it took was a long weekend or one of the children to get sick and stay home from school/kindergarten and there goes the schedule. It took me all week to try and get that time back or leave it until the following Monday and have double to do. I'm still very anal when it comes to schedules and timetables and if I can't get it done when I'm 'scheduled' to, I start to twitch and have a minor breakdown.
What works with me is having, what I call, 'micro routines' in my every day life that I can manage. This has been hard to remember to do because my mind is racing onto the next thing I need to do, but once practised a couple of times, it comes easy.
Bathroom & Toilet
I usually save cleaning the shower for the weekend. Morning showers at my place are about 2 minutes flat. At least on the weekend, I can enjoy a decent length of time in the shower and while I have the conditioner in my hair, I give the walls and floor of the shower a good clean. Every morning or night when I've brushed my teeth, I give the hand basin and vanity top a quick swish and wipe. Once the kids have finished their bath, I remove the ring from around the bath (plus half a bucket of sand and dirt that remains) with the face washer while letting the water out. For the toilet, I use a disinfectant wipe to give it a complete once over daily (I go to the toilet a couple times a day so there is ample opportunity to do this) as well as a good scrub with the brush. Floor washing is left for a day I have free during the week.


Kitchen
Unless I've done a lot of cooking or baking during the day, I leave the dishes I've used for the day until the afternoon when I'm cooking the evening meal. This is when I wash up. All that's left to do is our dinner plates plus maybe a saucepan or two after the meal. Bench tops and the dinner table are wiped down after every meal. Once the evening meal routine is over, I sweep the floor. We have bare timber floors in the kitchen/living area and it's driving me crazy so it needs doing all the time. It just never looks clean. I'm going to be getting the floors polished one of these days. When I'm wiping the bench and stove down, I normally give high traffic areas a quick once over too, like kitchen handles, cupboard door knobs, kitchen spout etc. Floor is washed once a week (if I'm lucky, when the bathroom/toilet floor is washed).

Living Room
This is one I have struggled with but am getting back to making places for everything again. My desk, kitchen table and coffee table can soon become dumping grounds for every bit of paper that enters this house. I
try
to action the paperwork as soon as it enters the house, eg kid's school information put on noticeboard or filed, bills go on clip on the fridge to be paid, personal mail which has been actioned put in the shredder or filed and anything else put into the recycle paper bin. The kids now have a weekly chore of vacuuming the rug in the living room with a small $20 stick vacuum I bought. It's more manageable for them instead of bringing out the bigger vacuum. I give the rug a good vacuum once a fortnight (but it's in really bad need of a shampoo).
Blankets and throw rugs are folded and put away in a basket at night. There's a shoe rack under the children's bag hooks (for their school bags and Council library book bag) for shoes that get kicked off at the door. As far as dusting goes, that's a fortnightly job that's done just before the rug is vacuumed.
Besides that, there's not much else to it (other than that 4 monthly wash of the curtains and the cleaning of the windows). I just don't panic about things like that anymore and if it's a nice sunny day, I'll do it but need to get in a habit of doing it. I'm envisaging doing it on the first day of each season or thereabouts. I think that's the secret with this plan. You need triggers to remind you to do these things until they become a habit. Bit like teaching the children to brush their teeth at night or make their beds in the morning
I have a couple of
homemade cleaners
that I use plus a bleach cleanser for hard to remove stains and giving the toilet a good scrub.
Now that the children are getting older, they are responsible for tidying, dusting and vacuuming their rooms. They tidy it every night and dust and vacuum it once a week, usually mid week. Things pop up or they get sick so it's not set in stone. I've learnt to be flexible, very flexible, since having children. I've become permanently blind in one eye I think from 'turning a blind eye' many times!
I hope this dispels the myth known as the "housework schedule". Sure, it may work for many people and I know that my Nanna used to have certain days to do things. Monday was washing day etc. I guess things were slightly different in those days, for example, no internet distractions to stop you from doing the chores!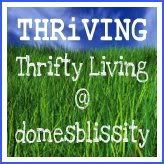 This post is part of Domesblissity's THRiVING - Thrifty Living feature.
Do you have a housework schedule that works?
What happens if you or the children get sick on a scheduled cleaning day?
How do you cope?
Yum