You've all heard of Thai Fish Cakes, right? I love them. Spicy, little bundles of fishy goodness, dipped in a sweet and spicy sauce. Great for appetisers at a party or as part of a Thai meal or banquet. I thought about replacing the fish with chicken as I might have better luck getting my daughter to try them. I know this is wishful thinking as the only chicken she'll eat is if it's covered in crumbs and is in a 'nugget' shape, if you know what I mean.
After I cooked these up it got me thinking. To me they are a Thai version of the humble Aussie rissole (or burger pattie). As part of the Gourmet Garden Blog Off / Cook Off, I used the Thai blend they sent me. A mixture of lemongrass, ginger, coriander and chilli which is super fresh and all that Thai flavours should be. With the addition of extra coriander, garlic and chilli, these little chicken 'cakes' were sweet, sour, hot and salty. Served with a simple Oriental style dipping sauce, this was an easy dish to throw together for dinner last night.
Of course you could use this same recipe for about 500grams of white fish. The dipping sauce is sweet and spicy with just the right amount of saltiness coming from fish sauce.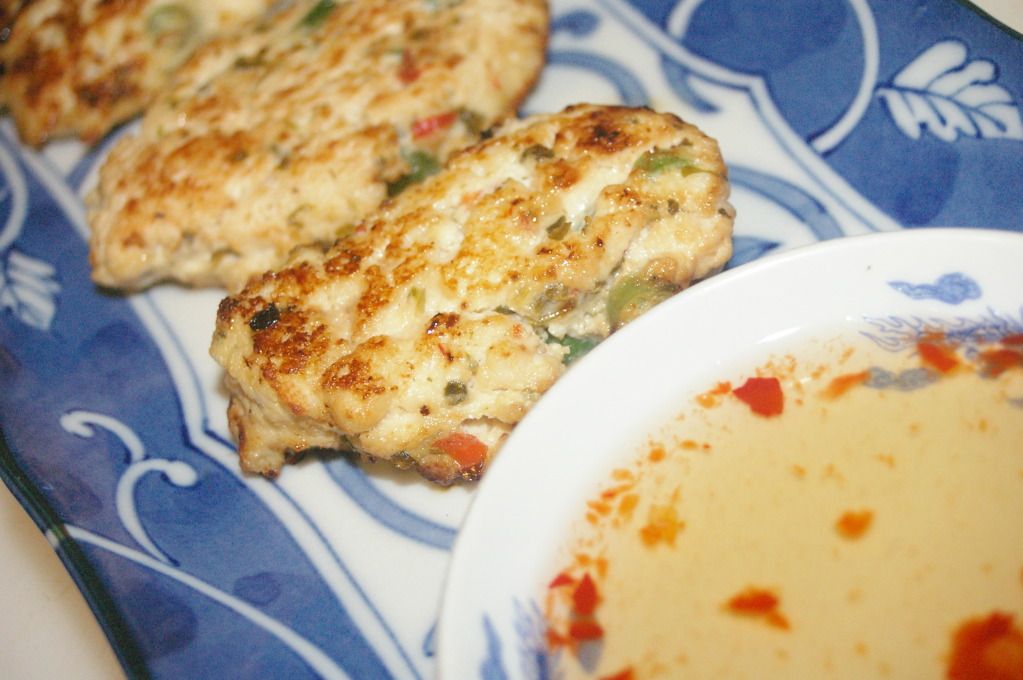 You could serve these up, as is, with the dipping sauce or as I did for a main meal. A bit of brown rice and a tossed salad with the dipping sauce used as the salad dressing.
Thai Chicken Cakes
(Based on Thai Fish Cake recipe on
www.taste.com
)
1 large chicken breast, roughly chopped then blended to a smooth mince (alternatively, use chicken mince OR 500gm white fish for Thai fish cakes)
2 tbs Gourmet Garden Thai blend (OR 2 tbs red curry paste instead of the Gourmet Garden ingredients)
1 tbs Gourmet Garden Coriander
1 tbs Gourmet Garden Chilli
2 tbs fish sauce
1 tsp white sugar
1 tbs lime juice
6-8 green beans, diced
oil for frying
Mix all ingredients together.
Drop tablespoons of mixture into moderately heated oil, ie not too hot, to allow thorough cooking of the chicken.
Cook for 2-3 minutes and turn.
Drain on absorbent paper.
Serve with Oriental Dipping Sauce and/or salad and steamed rice.
Oriental Dipping Sauce:
1/4 cup white vinegar
1/3 cup white sugar
1 tbs Gourmet Garden Chilli (or 1 tbs chilli sauce or 1 fresh chilli, chopped)
2 teaspoons fish sauce
Combine cold water, vinegar and sugar in a small saucepan over low heat.
Cooking, stirring, for 4 minutes or until sugar is dissolved. Bring to a simmer. Cook for 5 minutes or until slightly syrupy. Remove from heat.
Add chilli and fish sauce. Stir to combine. Set aside to cool.
I'm finding the
Gourmet Garden
Chilli not too hot so you could add more if you like more heat.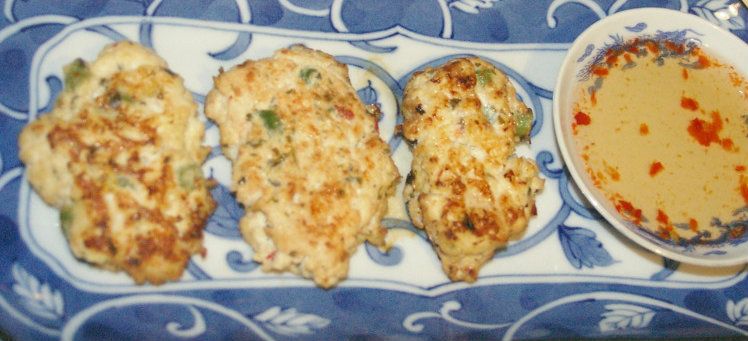 Yum