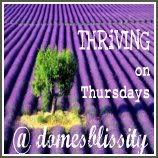 Another week bites the dust and here we are again at Thriving on Thursdays, my favourite time of my blogging week. An opportunity to see what my lovely followers have been up to all week, creating such lovely recipes, crafts, sewing projects and always coming up with new and innovative ways to save a few dollars. So without further adieu, here's the most hit, not food related linked up posts from last week's party.
Peli from A Lovely Mess drew this beautiful
picture of Spring with coloured pencil
. Just goes to show what a fabulous medium the coloured pencil is. I love a sharp coloured pencil anytime. I might just be inspired to start doodling with them. Thanks Peli for linking up!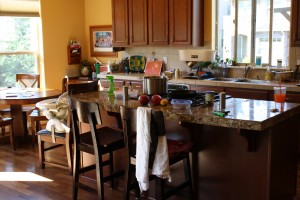 Tessa, the Domestic Diva shares her
kitchen organisation tips
with us. I'm loving Tessa's recipes more and more. If you're looking for allergy free recipes, gluten free or for healthy substitutes to most recipes, you'll find it on Tessa's blog. Thanks so much for sharing Tessa. I've got a lot to learn from this.
My fellow Aussie blogging buddy, Tonya from The Crafty Mummy shared with us this quick and easy tutorial for putting together an individual baby shower/new baby gift of
individualised baby sheets and a matching baby singlet
. How adorable is that ribbon Tonya used? I love this Tonya. Thanks so much for sharing your idea.
The Happy Housewifey showed us how it's done,
toy organisation
that is. Wait until you check this out. If only. I think I'd have the biggest party if I could ever get my toys organised this well. Thanks so much for linking up last week Hayley. I bet we'll all be busy this week trying to copy this.
Stacey-Lee from Get On With It Already has a great idea for
displaying your children's artwork and storage of their achievement awards
. Don't be like me and try to sneak it out with the recycled paper only to be sprung by the artist himself. Boy, was I in the bad books that week. I've now put that particular piece of artwork in my treasure box because it will always remind me to (1) empty the recycle waste myself and (2) hold on to their artwork for just a little while. Thanks so much Stacey-Lee. It was great to have you link up this week.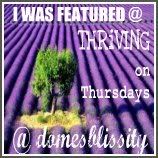 Feel free to grab a 'featured' button for your blog. There were so many great link ups last week, I was beside myself trying to get around to them all. My to do list is growing larger and larger by the week. And if you're after recipe inspiration, don't forget to check out the Recipe Roundup where I feature all the recipes linked up from each Thriving on Thursday party. This usually gets posted late Sunday evening. Now to this week's party. I'll be looking forward to seeing what you've been up to.
Yum