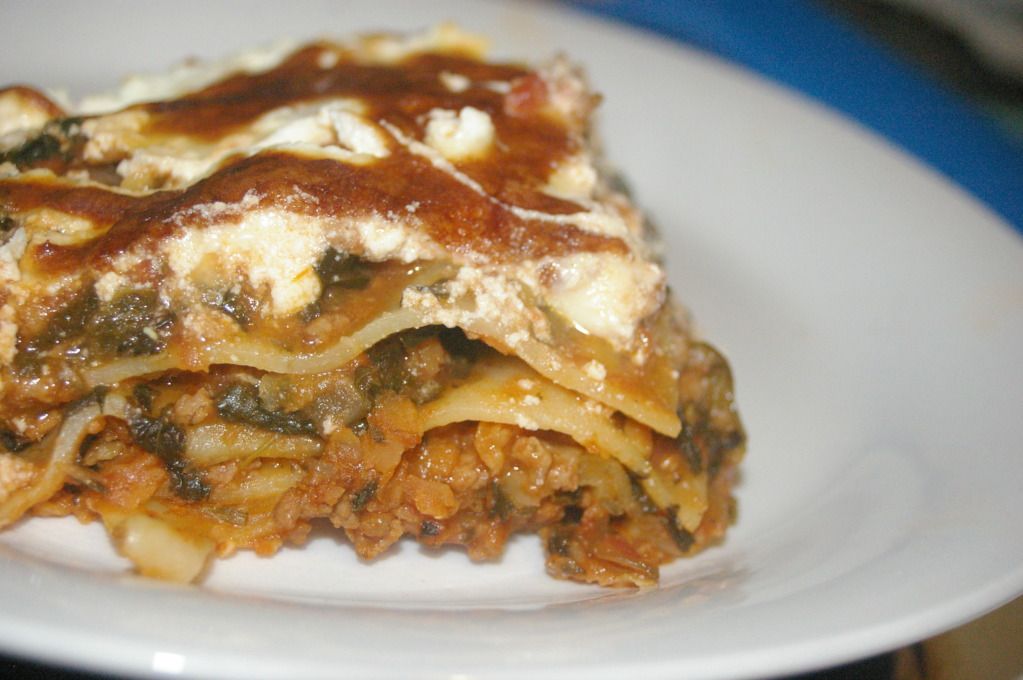 Doesn't matter whether it's summer, winter, spring or fall, I can eat Italian food. Any kind. But nothing conjures up wholesome, heart warming winter food that a big bowl of pasta or a big slice of lasagna with obligatory bechamel topping. It's not lasagna without bechamel as far as I'm concerned but my hips are telling me different and the way I've always eaten it so I decided to try to reduce the calories in my typical lasagna.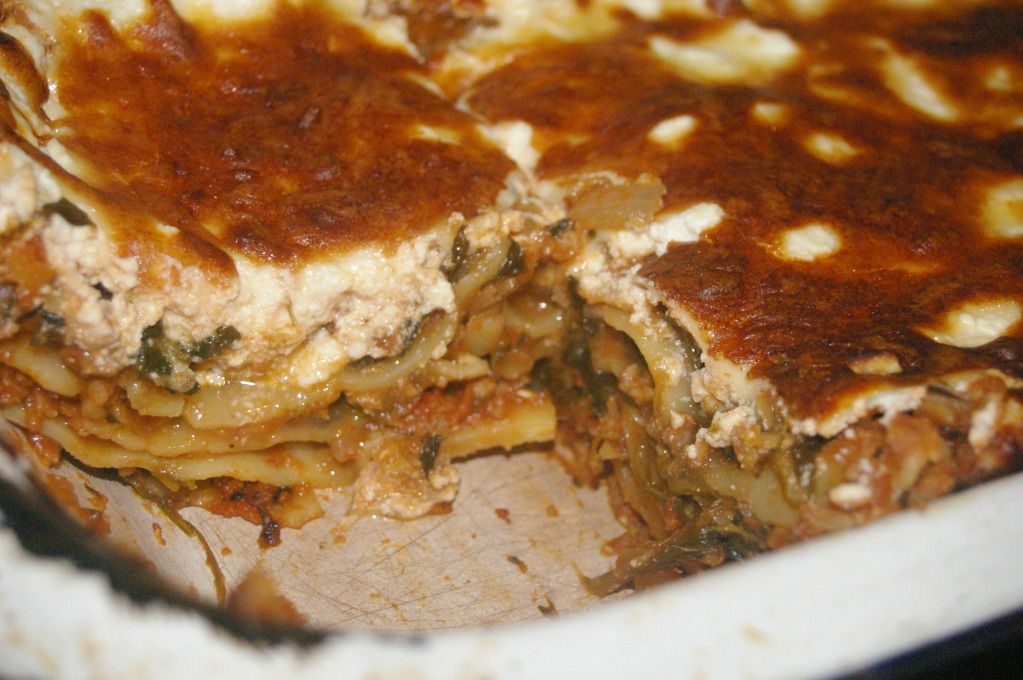 I don't believe the meat sauce is ever high in calories but I bulk it out a bit with lentils if I don't have much beef mince and with the addition of spinach, I added a bit of fibre and extra nutrients.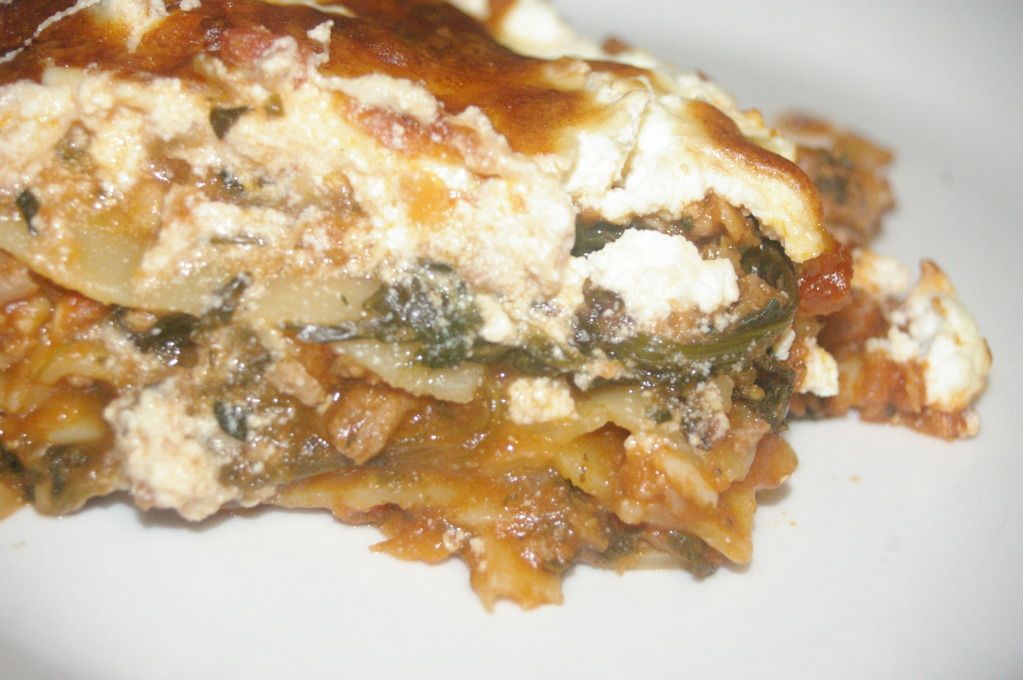 Okay, so it wasn't as good as a bechamel topped lasagna but still really yummy all the same. I've got a freezer full now for quick lunches and dinners too.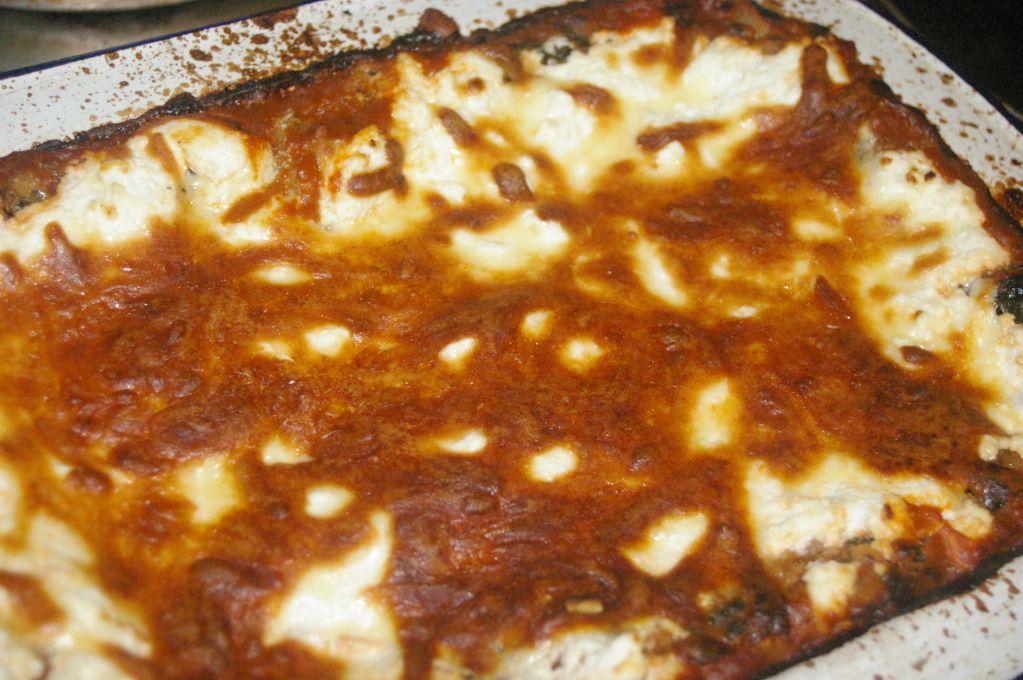 Ricotta topped Beef, Lentil & Spinach Lasagna
250gm beef mince (ground beef)
1/2 cup dried red lentils, rinsed well
1 onion, finely diced
3 cloves garlic, crushed
1 tbs dried basil
1 tbs dried oregano
1/2 bunch spinach/silverbeet (or 2 cubes frozen spinach)
1 tin diced tinned tomatoes
1 cup beef stock
2 tbs tomato paste
extra virgin olive oil (EVOO)
instant lasagna sheets
300gm low fat ricotta cheese
2 tbs mozarella/cheddar cheese
Brown onion in a little EVOO until softened. Add mince and brown. Add garlic.
Add tomato paste. Fry off for 1 minute.
Add dried herbs, lentils, stock, tinned tomatoes and cook for 30 mins (or until lentils are soft).
Add some meat sauce to bottom of baking dish. Forms layers of pasta and meat sauce until finished.
Top with ricotta cheese and a sprinkling of mozarella/cheddar cheese.
Bake in a 180 deg C (375 deg F) oven for approx 25 mins or until golden on top. Allow to sit for 10 mins before serving.
Yum