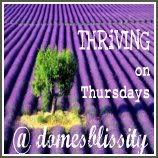 Here it is again, Thursday that is, and I wish I could say I was feeling a little more enthusiastic and cheerful. What started off as a chipped tooth, turned into a throbbing toothache over the Queen's Birthday long weekend just gone. I managed to get in to see a dentist yesterday morning and made the quick decision to extract the tooth rather than have a root canal. It's been a long time since I've been to the dentist and I was reminded why. It's such a fearful place. You'd think at my age I wouldnt' be afraid of such things but it happened so quickly and I felt the blood drain out of my body as she told me what would happen. At the end of it all, it wasn't that bad (as I slowly walked back to my car dribbling out the side of my mouth!) Feeling a lot better today and a good lesson to be learnt to look after your teeth. So, onto the party and here's the most hit links, not food related, from last week's party.
Did you ever think you could use el cheapo, dollar store
stain removing toothpaste to polish silver
? Well thanks to Ocean Breeze, you can. What a fantastic idea. I've got heaps of silver to polish so I'm going to try this. Thanks so much for linking up this week K.

How much money do you spend buying toys for your kids? Heaps like me? I'm a sucker for buying my kids the latest fad (as much as I can afford) but I totally agree with Janine's post on the
top 3 organic toys for kids
. Dirt, water and sticks have given my children so much pleasure and enjoyment. Thanks so much Janine for such insightful posts each week. This has been a timely reminder, especially since those mid year toy sales are just around the corner!

Stephanie from LoveOlympiaJune shared her
updated Entryway Table
, which cost her the massive sum of $9! Don't you just love it? I've got a similar old desk at my front door and I'm just looking and looking for that elusive roll top desk but might change after I've seen this. Thanks Stephanie for linking up. You've given me a lot of inspiration.
Anita (from Aunt Nubby's Kitchen), how do I love thee? Let me count the ways... I just can't wait to get my
wrapping paper organised
. Oh, you're a lifesaver Anita. See your before shot? Well my wrapping paper stash is about 1,000 times worse and has been neglected for so long. I just love this. I love how you've put those cut toilet rolls around the wrapping paper rolls too. Such a fantastic idea. Thanks so much for linking up Anita!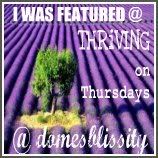 So there you have it. If you haven't already, grab a 'featured' button if you like. I can't wait to see what everyone's been up to this week. It's Father's Day soon in the States and UK so look out for some great ideas coming through to put away for our Father's Day here in Australia in the first week of September.
Yum