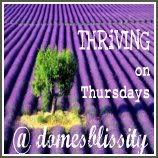 As I write this, I'm counting down the minutes until the kids are in bed and I can shortly follow. They were so nice in sharing their germs with me I now have a dreaded cold. Couldn't come at a worse time with dark, gloomy weather here in Queensland and rain since the weekend. Not a very good start to the school holidays, not that we had much planned. The kids are still getting over their colds and have kept themselves amused. Anyway, hopefully I'll be better soon and on to this week's Thriving on Thursdays linky party. Here's the most hit, non food related links from last week. Thanks everyone for linking up.
Check out this gorgeous
tote bag made from a t-shirt
from Anita at Aunt Nubby's Kitchen. Isn't it the most gorgeous shade of purple? I'm always looking at ways to preserve a souvenier t-shirt and this is great. Thanks so much Anita.
And how about this
outdoor bar
from Barb at Turtles and Tails? I could really go for some outdoor entertaining in the warmth and sunshine. I'm so over winter already. Only 2 months to go and we'll be back in the warmth. Thanks Barb for linking up this fantastic idea.
This couldn't come at a better time thanks Sam from The Klutzy Kook. Check out some of these fabulous
home remedies for colds and flus
. I've got the kettle on now to make one of these hot lemon drinks. Thanks Sam for linking up. (Isn't the weather here in Brisbane just awful at the moment?)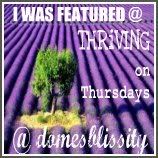 Thank you so much for everyone linking up this week. The standard of blog posts is just amazing and I'm continually blown away by the originality and creativeness of the ideas. Feel free to grab a 'featured' button if you like. Now, on to this week's party. The party will close on Sunday night (at around 8:30pm Brisbane time) and I will upload all of the recipes linked up that night, to help with menu planning.
Yum