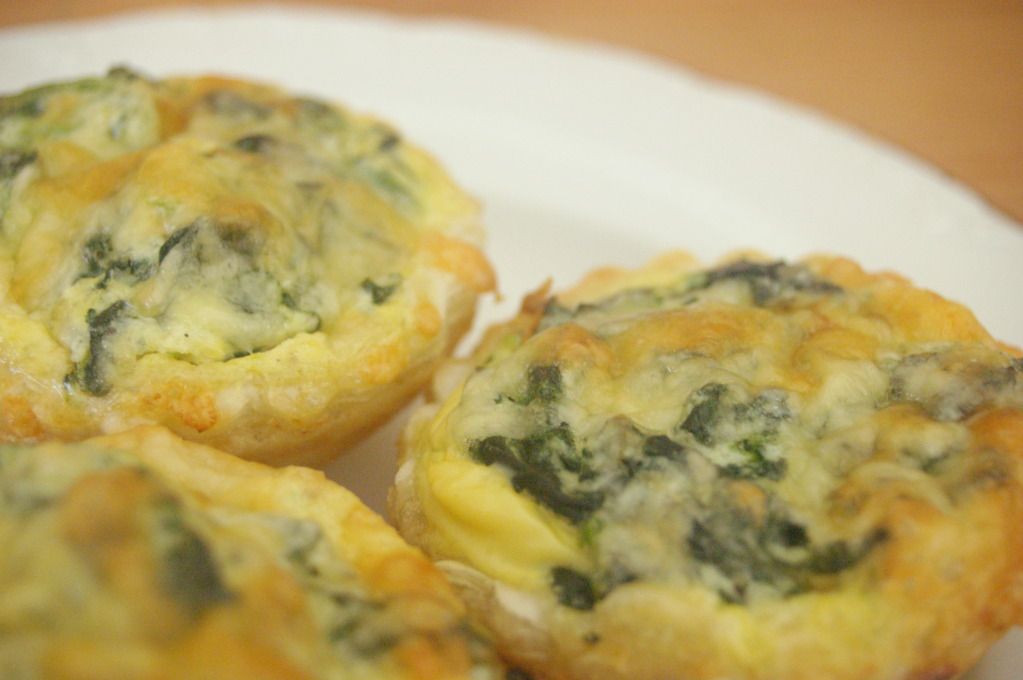 We were invited to a Christening yesterday. I hadn't been to one in ages. Now that my children are turning 8 and 6 this year, I don't have too much to do with babies as most of my friends have children the same age, except this one who had a baby earlier this year, her fourth. What a trooper she is. A wonderful cake maker, mother, wife and friend. I thought I'd take something and using what I had on hand, I whipped up these mini spinach and ricotta quiches.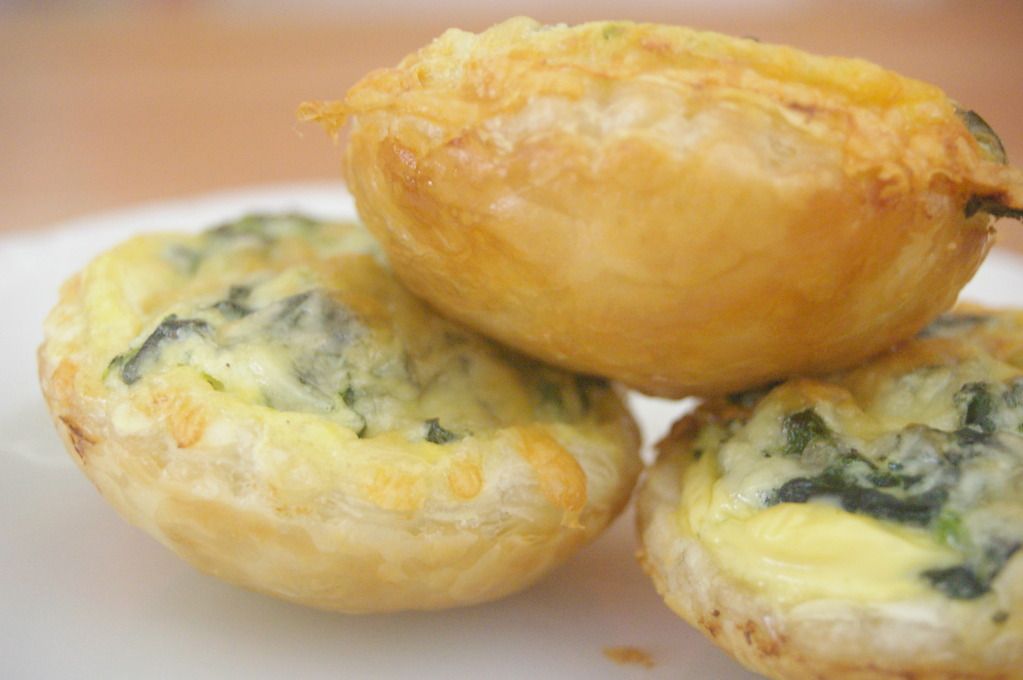 I love having frozen puff pastry on hand because you can whip up anything for a party with that and just about anything else you've got lurking in the fridge or pantry.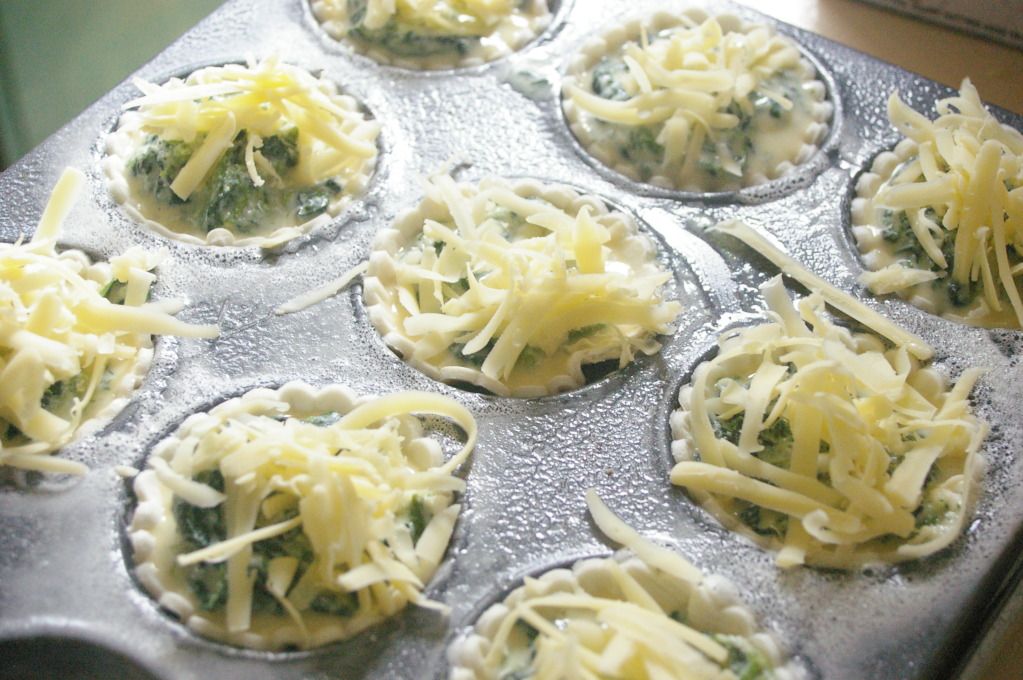 A couple of fridge and freezer staples and you've got the making of a quick party snack or a luscious lunch time treat or family dinner tart.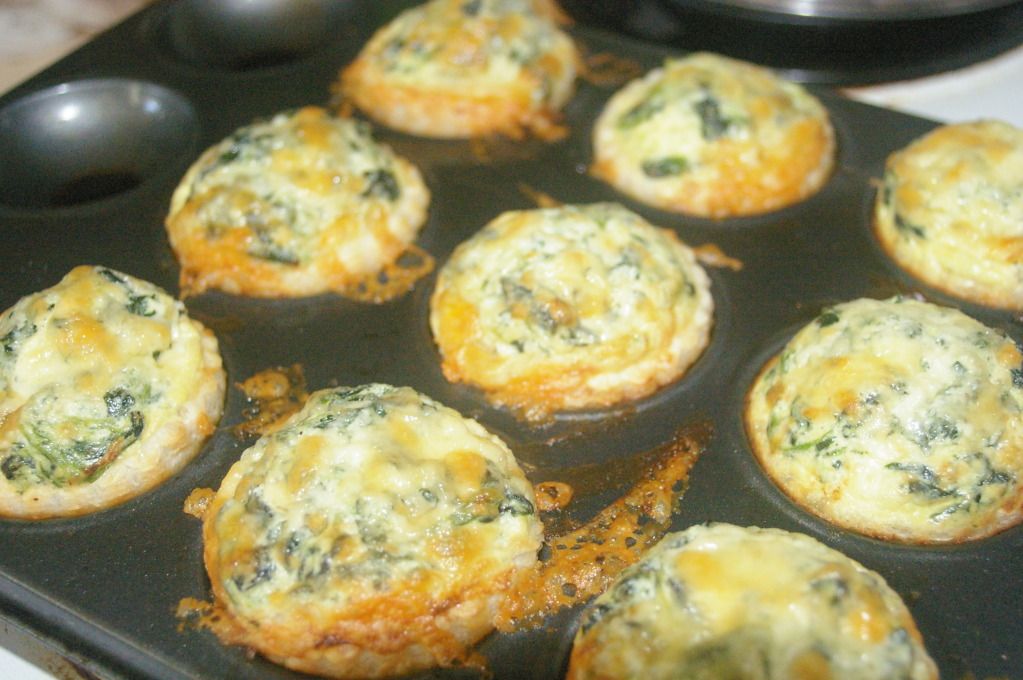 I love the way a quiche comes out of the oven all puffed up. I think I'll be making these again. Low in calories but high in flavour and taste.
Mini Spinach & Ricotta Quiches
1 sheet frozen reduced fat puff pastry, thawed
1 egg
1 tbs low fat ricotta cheese
1/4 cup skim milk
2 tbs chopped, cooked spinach (I used 1 small block of frozen spinach)
1 tsp crushed garlic
salt & pepper
2 tbs grated cheese
oil spray for pan
Prepare pan by spraying well with oil spray.
Cut out pastry rounds from thawed pastry. (One sheet of pastry yielded 9 mini quiches.)
Beat egg and add, ricotta, skim milk, spinach, garlic and salt & pepper. Mix well.
Place tablespoons of mixture into prepared pastry cases and top with grated cheese.
Bake in a 180 deg C oven (approx 350 deg F) for approx 15 mins or until golden brown and pastry is cooked.
And if you're in the Brisbane area and ever in need of that hard to find cake tin, my dear friend will most likely have it available to hire or she might even find the time to make it for you at a great price. She's an excellent cake maker.
Yum