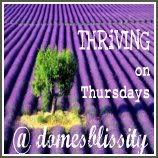 If you're still out there, welcome to another Thriving on Thursdays! Thank you all so much for linking up last week. It was such a pleasure to see so many wonderful projects. I might even have something to blog about next week myself with all this time I've got on my hands. Since I've stepped away from social media, I've got hours and hours of time each day to do what's really important to me. Even though the world seems to be running on social media, there is another whole world of people, real people, who know nothing about it and they're worth connecting with. People like my kids and family. They don't have their eyes glued to a computer screen or mobile phone. They've got their eyes glued on me and need me. Anyway, back to the party and these are the most hit links from last week's party.
I'm in love with Pam from Threading my Way, a wonderful Aussie crafting and sewing blogger and these gorgeous
denim fabric baskets
. After my post on using things around the house to
organise your stuff
, what could be better than to look at old jeans as a suitable storage solution. Thanks Pam. Love it!
Welcome to Christine from Let's Get Crafty and her inspiring
"I Am Enough - The Woman's Creed"
was a real hit with my readers last week. If you haven't checked it out, please do. She's summed up a woman's lot in life really well and has put it into a free printable for us to print and put up on the wall, as a reminder to us all just how wonderful we all are. Thanks Christine and thanks for linking up last week!
Courtney from Musings of an im-Perfect Mom is a woman after my own heart with these prettied up
'chip clips'
. I always have a couple of pegs in my utensil draw to clamp bags closed but these look so much cuter. I wonder if I stuck the Hello Kitty one on a bag of vegetables, would my fussy 8 year old daughter eat them? Worth a try! Thanks so much Courtney for linking up.
No wonder Jess from Life's Simple Measures stays so thin while baking all these wonderful sweet treats. She's a runner and had a wonderful time at a recent 'Colour Run' and shared some fantastic photos as well as another outstanding recipe in these
Blueberry Cheesecake Bars
. No Thriving on Thursday linky party is complete without a recipe from Jess. Thanks again Jess for linking up. Have all of these ingredients and they'll be made as soon as I can find the nearest fun run!
(Sorry to my US readers but here in Australia we spell colour with a 'u' and I just can't bring myself to drop the 'u'.)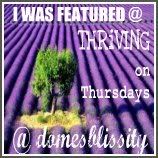 Thank you everyone for linking up. Feel free to grab a 'featured' button if you like. If you've got a recipe, craft, sewing project, linky party announcement or anything else, feel free to link it up. We'd love to see what you've got. Have a great week!
Yum