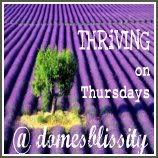 Hello again my lovely THRiVERs! Welcome to another week of Thriving on Thursdays. It's officially Spring here in a couple day's time and it couldn't come soon enough.


Winter was long, cold, full of ill health and miserable. Nothing feeds my soul more than the onset of Spring and Summer, the birds singing, the flowers blooming, the warm breezes blowing and my cherubs November birthdays and Christmas. This is my favourite time of year. (Can you tell?) So as the southern hemisphere heads into Spring, our northern friends will be heading into fall and you'll see a dramatic change in recipes and crafts being submitted. No problem. All is welcome. Head back to previous Thriving on Thursdays for heaps of great winter and summer recipes and crafts. Now, the most hit links from last week.
NOT FOOD RELATED

Thanks so much everyone for linking up. I loved each and every one one of your projects. If you were featured, please feel free to grab a 'featured' button from the menu above. On to this week. I'd love to see what you've all been up to.

Yum