Welcome to a new weekly feature called "Mystery Ingredient Monday". My pantry is just bulging at the moment and I'd like to work through a few ingredients that might also be clogging up your pantries. Sometimes we just go for the obvious recipes but I'm going to try and share with you some interesting and creative ways to use these things up. So, to start us off, our first ingredient is:
CANNED FRUIT SALAD (COCKTAIL)
The obvious one is to serve chilled with ice cream. Here's some other ideas.
serve with or set in jelly or custard
trifle
cheesecake
fill individual meringue shells or a large pavlova with whipped cream and top with strained fruit salad
layer in tall glasses with cream for dessert or Greek yoghurt and topped with granola for breakfast
puree or leave chunky and freeze in ice block moulds
make fruit smoothies
fill crepes or chop fruit slightly and add to pancake batter
add to muffins
put in a serving dish top with crumble (crisp) mix or cake batter and bake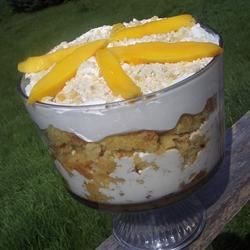 I'll be sharing another recipe during the week. Remember to substitute ingredients in recipes where you can. No point using stuff up if you've got to go out and buy more ingredients to make up the recipe. Stay tuned for another mystery ingredient next Monday. Never hesitate to drop me an email should you have any queries whatsoever with any of my recipes or ideas.
Are there any others you can think of?