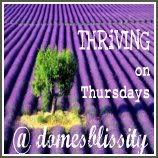 Welcome to another week of Thriving on Thursdays! We're working our way through a heatwave here in Australia but I'm a little over the media scaremongering. Floods, fire, high temperatures, doesn't matter what it is. Each TV network claims to be 'first on the scene', 'streamlining live from the scene' etc. It's January in Australia. Typically a very hot month and typically a bushfire burning somewhere. It's the way its been forever. Anyway, another cool drink and another cool icy pole and we'll be right. Let's get onto this week's party. Here are the top 3 food related and non food related posts from last week's party.
Creme Brulee French Toast by My Turn (for us)
Chocolate Cheesecake Ball by Life on Lakeshore Drive

Get Rid of Holiday Clutter by Pint Sized Treasures
Crocheted Stool Cover by Annemarie's Haakblog
Art Caddy by Threading My Way
So many wonderful, wonderful frugal tips and ideas. I love it. Feel free to grab a featured button if you wish. So, onto this week. Any back to school tips? Valentine's Day? Easter (for heaven's sake)? Look forward to seeing what you've all been up to. The countdown has begun for me. Only two more weeks after this before my munchkins are back at school.